Thank you for the important work you do with your students and their families to help them navigate the college search process to help them find their best-fit.
You're busy, so we've gathered pertinent information for you about The University of Tulsa in one place. Our goal to centralize the information you need to help your students with their interest in Tulsa.
Can't find something you're seeking? Let us know so we can improve the information for you and your colleagues: admission@utulsa.edu or 918-631-2307
TU Overview
Looking for a blurb about TU to help raise awareness with your students? We've got you covered!
The University of Tulsa is a nationally ranked, private research university and is a leader in blending liberal arts with professional studies in fields such as engineering, computer science, cyber security, business, nursing and athletic training. Students at The University of Tulsa enjoy elite academics, small classes, a beautiful residential campus, incredible support services, a vibrant urban setting, NCAA D1 athletics (including Division I-A football), exciting activities and a unique job placement guarantee. Learn more about TU on the Office of Admission website.
Find the admission counselor contact for your school and feel free to connect with them for any TU questions. Your students can schedule a one-on-one meeting with their admission counselor at any point in the admission process. In fact, they're encouraged to do so! We are eager to work with you and your students!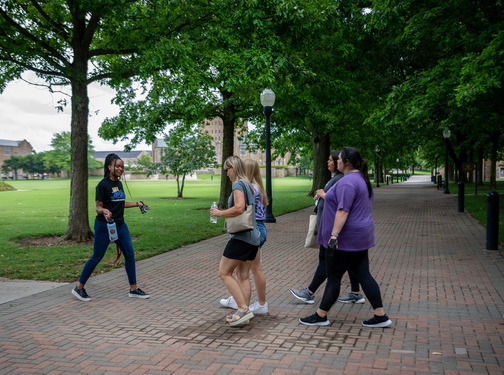 Here you'll find information about arranging a group visit for your school group as well as information about campus visit options for your students and their families. You'll also find our virtual tour, information about the City of Tulsa, a campus map and links to area hotels.
(for first-year domestic students)
Help your students navigate the application process by knowing our deadlines, by seeing what's required of them to apply for admission and by understanding what we're seeking from our applicants. We will waive the $50 application fee for students who submit the application for admission by November 1 for the following fall semester.
Test optional can mean different things at different schools. Find out what Test Optional means at TU and find many other frequently asked questions about Test Optional.
Advanced Placement Credit: Listed in alphabetical order by AP Exam, see what scores are needed in order for TU to award credit.
International Baccalaureate: The University of Tulsa recognizes the rigor of the International Baccalaureate curriculum by offering credit to students who earn the IB Diploma or achieve certain scores in the IB program.
Transfer Credit Guide: The University of Tulsa awards credit based on course work completed at U.S. colleges or universities accredited by a regional accrediting association; or course work completed at international colleges or universities of recognized standing.
The University of Tulsa uses Slate.org as a tool for high school counselors to check the application status of their students. This free platform for counselors allows you to upload documents, track application statuses, see admission decisions (once your students have seen them), and more. You can register at no charge through the "Counselors Join Here" button.
Tuition, Fees, Scholarships and Financial Aid
Direct your students and their families to these pages for more information about TU's costs and options for them to help manage their expenses:
Families should reach out to the admission counselor for their area to arrange an individual meeting to go through details.
Check out the options for your students; you'll see that TU has more than 60 academic programs across many different academic disciplines. Often students will double major or have a minor or two along with their major area of study. Students can do this across colleges, meaning they can major in something in one college and earn a second major or minor in another college.
All first-year students are required to live in university residence halls; all second-year students are required to live on campus. (Students residing in the primary residence of their parent(s) or legal guardian(s) within a 20-mile radius of the university can submit a request for exemption from the housing and dining requirement.) Learn more about our residence halls, dining options, Greek Life, and on-campus apartments (starting sophomore year).
TU has more than 150 clubs and organizations for your students to complement their in-class experiences. Find a list with brief information about many of them here.
TU's Honors College offers academically gifted and motivated students an exceptional and accelerated liberal arts curriculum, focused on the study of classical texts, in a vibrant intellectual community that fosters friendship, growth in excellent habits of mind and character, and service to the common good. To graduate with Honors, students complete the Honors curriculum, defend an Honors thesis or project, and participate in community service.
Students who complete all JPG program requirements are guaranteed to be offered an entry-level job or to be accepted into a graduate or professional program within six months of graduation or they'll receive a free semester of graduate school tuition benefit at TU!
In an increasingly digitally connected world, engaging with the international community has become a key piece of the American college experience. TU offers summer, semester-long and faculty-led abroad options. TU also offers a unique opportunity during the summer for incoming first-year students called JumpstartTU. This one-week international experience in Panama or Mexico is designed to serve as an introduction to The University of Tulsa's academic and campus life through a transformative, intensive experience.
TU offers a free textbook program! This program takes the hassle out of course material buying because required textbooks are fully covered by The University of Tulsa. Having required course materials on Day One makes it easier for students to be more successful in class.
Transition to TU
Orientation: Every semester during the week before classes, we create a unique experience aimed at helping new students get off to the best start possible. Our Peer Mentors help students transition to the routine and challenges of college life and make many connections that will support them throughout their time at TU.
Peer Mentors: Our student peer mentors are carefully selected to serve as guides for our new TU students who will first meet their peer mentor over the summer (through email, texts, GroupMe or Zoom). That same peer mentor hosts the Orientation experience before classes begin, and then is embedded with them each week in their FYE1001 course. Peer mentors stay connected to their students throughout their first year of college to answer questions, connect them with resources and just be a friend through the challenges of the college transition.
First-Year Experience (FYE1001) Course: All new students will take FYE 1001, an academic and personal development course to help students develop skills necessary for making a successful academic and personal transition to TU. (Transfer students will take FYE 3001, a similar transition course, but geared for transfer students.)
Student Success Coaches: While the Admission Counselors serve as a great resource as your students are considering TU, once they become TU students, their Student Success Coaches will serve as their academic advisors and will provide them with a welcoming and responsive place to find support throughout their first year.