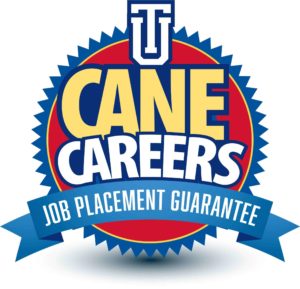 The University of Tulsa guarantees that within six months of graduation, you WILL receive a job offer or be accepted into graduate school!
Students who wish to participate in the CaneCareers Job Placement Guarantee must enroll in an online, zero-credit course full of resources, professional development, networking, webinars and other programming designed to help build confidence and prepare them for their career or post-graduate program.
This coursework is designed not only to teach students the practical skills and networking know-how employers are seeking, but also to give them the skills and confidence to find and succeed in their first job beyond college.
Students who complete all program requirements are guaranteed to be offered an entry-level job or to be accepted into a graduate or professional program within six months of graduation or receive a free semester of graduate school tuition benefit at TU.
If you would like to enroll in the CaneCareers Job Placement Guarantee and are an incoming student for spring 2023 and beyond, please complete this survey. In a few days, expect your welcome email from canecareers@utulsa.edu with the program contract. Please watch the video below and read the eligibility requirements. Contact us if you have any questions.
Eligibility
All incoming undergraduate students with a fall 2022 entry and after are eligible for the CaneCareers Job Placement Guarantee as long as they finish their last 60 hours at TU. Students must be eligible for work in the United States upon graduation and meet the requirements for entry into a TU graduate program. Additionally, students participating in the CaneCareers Job Placement Guarantee program must be in good standing financially, ethically and academically with TU in order to be eligible for this benefit.
Career readiness
Career readiness is a foundation from which to demonstrate requisite core competencies that broadly prepare the college-educated for success in the workplace and lifelong career management. The CaneCareers Job Placement Guarantee is a comprehensive career readiness program based on the following eight career readiness competencies identified by the National Association of Colleges and Employers:
Career and self-development
Communication
Critical thinking
Equity and inclusion
Leadership
Professionalism
Teamwork
Technology
This is an educational program designed to help our students succeed.
Example of yearly requirements for students
Program completion requirements
Must have fulfilled all CaneCareers requirements
Must be eligible to work in the U.S. upon graduation
Must graduate with a 3.0 cumulative grade-point average
Must be able to pass required background checks
Must be in good financial standing with the university
Must qualify for TU's Graduate School
Must begin an active job search six months before graduation, applying for at least four positions a month
Must begin active graduate school search five months before graduating, applying to at least three schools
Must be willing to meet job location requirements
If you have any questions regarding the CaneCareers Job Placement Guarantee, contact us at canecareers@utulsa.edu or 918-631-2345.